Ventrac Finish Mower Deck Family
Designed to cut grass quickly, efficiently, and with excellent precision, the Ventrac family of MS/MT/MU finish mower decks result in a beautifully striped lawn, time after time.
Professionals and lawn enthusiasts appreciate the many features and quality provided by these mower decks from Ventrac!
Request a quote, or contact your nearby Koenig Equipment location to learn more.
BOTTOM VIEW

TOP VIEW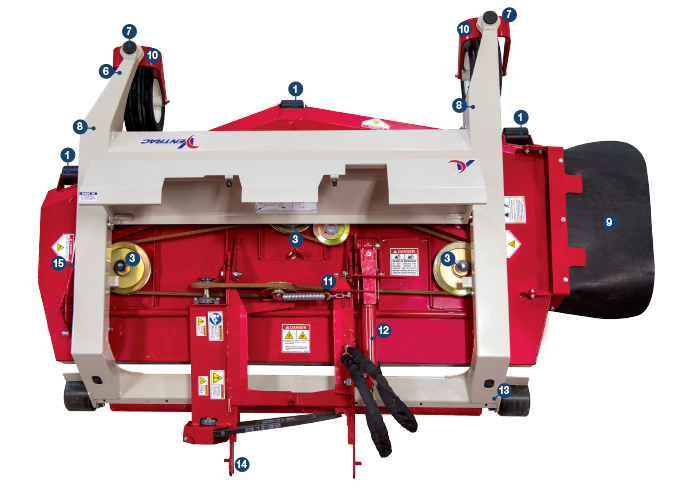 FEATURES
ANTI-SCALP ROLLERS - Additional anti-scalp rollers help protect the turf
ULTRA SMOOTH SHELL - Cleaner, smoother deck shell, helps prevent grass buildup
TOUGHER SPINDLES - Ventrac's best spindle yet featuring 6 bolt mount, 5/8" retaining bolt, and double row angular contact bearings
STRIPE ROLLER - Larger Diameter for smoother ride, increased bearing life, and bolder more pronounced stripes
LARGER DISCHARGE OPENING - Larger discharge opening improves airflow and cut quality
OFFSET TRIM WHEEL - Improved quality of cut and better line of sight trimming
LOW PROFILE BEARING CAPS - Reach under bushes and pine trees without worry of losing the caps
IMPROVED CARRIER FRAME - Strengthened carrier frame arm for increased durability
RUBBER DISCHARGE CHUTE - Easy on landscape, will not dent like steel
IMPROVED CASTERS - Tapered roller bearings and larger diameter pivot bolt provide smoother operation and longer life
TOOL-FREE BELT TENSIONER - Our NEW tool-free belt tensioner makes maintenance quick and easy
HYDRAULIC FLIP-UP - Optional Hydraulic Flip-Up makes deck clean up quick and effortless (Manual Flip-Up standard)
HEAVIER ROLLER MOUNTS - Reinforced rear roller mounts to help carry the load for the long haul
VENTRAC MOUNT SYSTEM - Allows for quick connection of the mower deck with no tools or heavy lifting
ONE LEVER HEIGHT ADJUST - Broad range of height settings from 1"-5" in 1/4" increments
BENEFITS
STRIPING ADVANTAGE - Full-width rear rollers create a professional striping pattern
EASY SERVICE FLIP-UP DECK - Requires no tools or removal of belts
DURABILITY - Built with heavy gauge steel and a reinforced frame for less down time
PRECISE MOWING HEIGHT - Variety of cutting positions, height levels, and cutting widths with a single lever to make adjustments
VENTRAC MOUNT SYSTEM - Switch attachments within a minute, without any tools or heavy lifting
Location
Bloomington, Indiana
Botkins, Ohio
Germantown, Ohio
Greenville, Ohio
Oxford, Ohio
Richmond, Indiana
Tipp City, Ohio
Urbana, Ohio
Specs
MS600 - 60" Cutting Width, Side Discharge, Rubber Discharge Deflector
MS720 - 72" Cutting Width, Side Discharge, Rubber Discharge Deflector
MT720 - 72" Cutting Width, Side/Offset Discharge, Rubber Discharge Deflector
MU720 - 72" Cutting Width, Rear Discharge